In addition to our comparison of hotels in Albufeira, we are going to dig a little deeper at the request of our readers. The editorial of tualgarve.com has prepared the comparison of the best all-inclusive hotels in Albufeira. There are many types of trips and travelers, this time we will focus on couples, friends or families who want a trip without complications, an easy trip and everything done in terms of accommodation and meals.
The advantages of reserving this type of hotel (see more all-inclusive hotels in the Algarve) is that we don't of everything in terms of food and accommodation and we focus on enjoying ourselves, in addition to knowing from the beginning the closed price of everything, which when calculating our budget comes in handy.
In the center of the Algarve coast, just 35 minutes from Faro airport, Albufeira has been the most popular tourist destination in southern Portugal since the 1970s Albufeira has a large number of all-inclusive hotels, in this post we are going to help you choose the best one for you. You can also take a look at our short Albufeira guide.
Comparison of the best all-inclusive hotels in Albufeira

To see the full comparison table, hold your smartphone horizontally.
Comparison of the best all-inclusive hotels in Albufeira

Swipe to see the full table.
?aid=1663993
Average prices of all-inclusive hotels in Albufeira in high season
We have done a price market study, taking as a reference the first week of June (high season) and a double room for two adults who want to spend their holidays in an all-inclusive hotel in Albufeira
The result of the study, according to tualgarve.com, gives us the following result: Price per night is approximately €270. (€135 x person and night).
After the introduction, we are going to see which is the best all-inclusive hotel in Albufeira so that you can enjoy the best vacations:
#1 | Adriana Club Beach Resort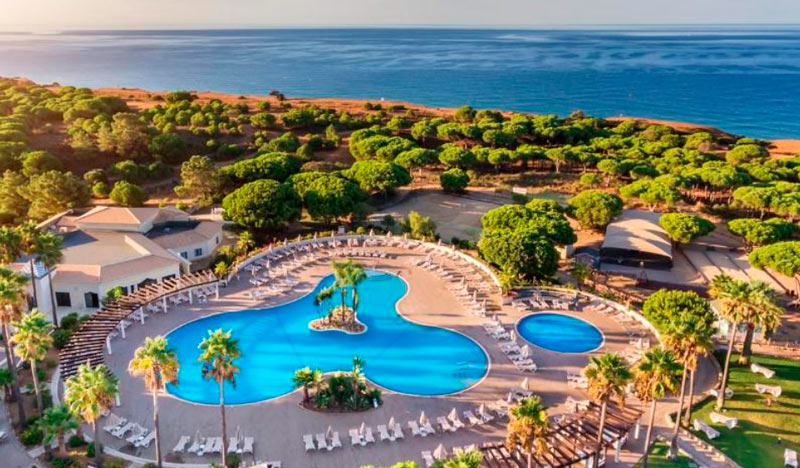 Adriana Beach Club is an all-inclusive resort, surrounded by gardens and located 300 meters from Falesia beach, where there are sun loungers and umbrellas free for customers. It has 2 outdoor swimming pools for adults and another 2 swimming pools for children, sports facilities and a spa with massage services. If you are looking for comfort, nature, spectacular views, rest and fun, this ALL inclusive resort hotel is your option. Highly recommended.
#2 | Sao Rafael Suites All Inclusive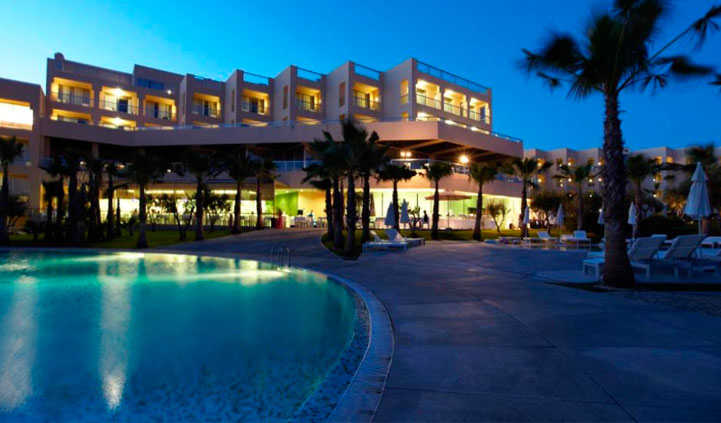 5-star luxury hotel with an all-inclusive option, overlooking São Rafael Beach and a 5-minute drive from Albufeira. It has spectacular views of the sea and the garden, plus free parking.
#3 | 3HB Clube Humbria All Inclusive
The 3HB Clube Humbria all-inclusive Albufeira hotel, ideal for families, is located in the traditional fishing village of Olhos d'Agua.
It is 800 meters from the beach and offers apartments with views of the garden and pool.
This complex offers outdoor swimming pools for adults and children, a swim-up bar, a main bar, a children's playground, a small water park for children and a kids' club.
In addition, there is a buffet restaurant, shop, sports court, day and night entertainment, free outdoor parking and a private garage.
EYE, very well priced, one of the best in terms of value for money, we recommend it.
#4| Salgados Palm villaje apartments suits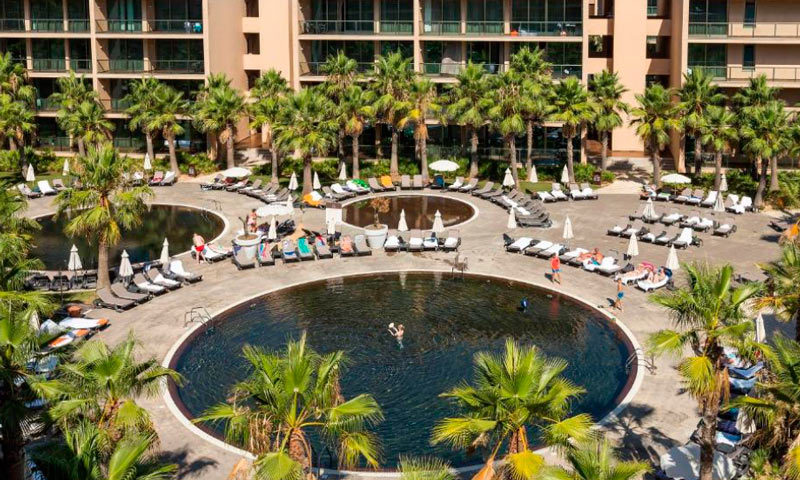 Salgados Palm Village Apartments & Suites – All Inclusive is located in Albuferia and has 10 outdoor swimming pools, (yes, you read that right), gardens with palm trees and a kids' club. It has modern rooms and suites located less than 900 meters from Salgados Beach and 500 meters from the 18-hole Salgados Golf Club.
It has well-cared facilities and a great environment to spend an excellent holiday in the Algarve, Portugal in an all-inclusive hotel.
#5| 3HB Guarana - All Inclusive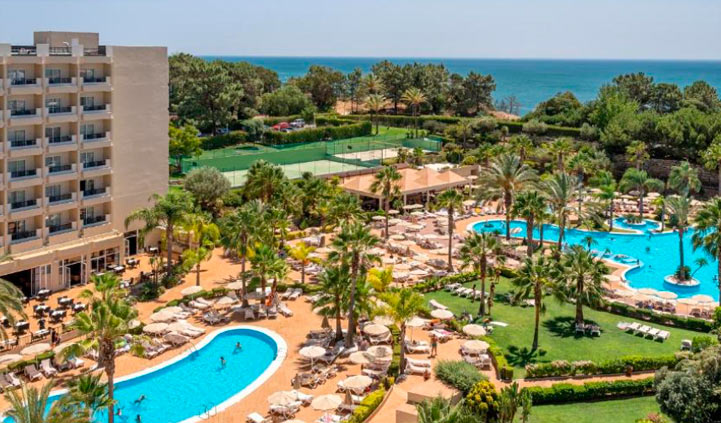 The Hotel 3HB Guarana all inclusive is located in Albufeira. It has a restaurant, fitness center, bar and shared lounge. It also has a kids' club.
The rooms are equipped with air conditioning, a wardrobe, a safe, a flat-screen TV, a balcony and a private bathroom with a bidet. A continental or buffet breakfast is served in the mornings.
The property also has a garden with a playground and a spa and wellness center with a hammam.
The hotel is 21 km from Faro Airport, the nearest airport. Airport transfer service is provided for a surcharge.
↓ See more all inclusive hotels in Albufeira on the map ↓
See more all-inclusive hotels in the Algarve
[wp_show_posts id="2070″]