In this post we are going to talk about the best hotels in Praia da Rocha. Portimão is, along with Albufeira, one of the most visited cities in the Algarve, but if Portimão is known for something, it is without a doubt for one of the best beaches in Portugal, Praia da Rocha.
In fact, there are many people who, when looking for a hotel in Portimao, look directly at playa da rocha. To make this task easier for our readers, the editorial staff of tualgarve.com has prepared a ranking, to be more exact, a comparison with the 5 best hotels in playa da rocha, Portimao.
Comparison of the best hotels in Praia da Rocha

Swipe to see the full table.

Pro Traveler Tip:
Click on the links to
see prices and availability and make a reservation. All the hotels in this comparison have free cancellation
and if you later find another option, you can cancel it for free in just 1 click.
#1 | Algarve Casino Hotel
recommended by tualgarve.com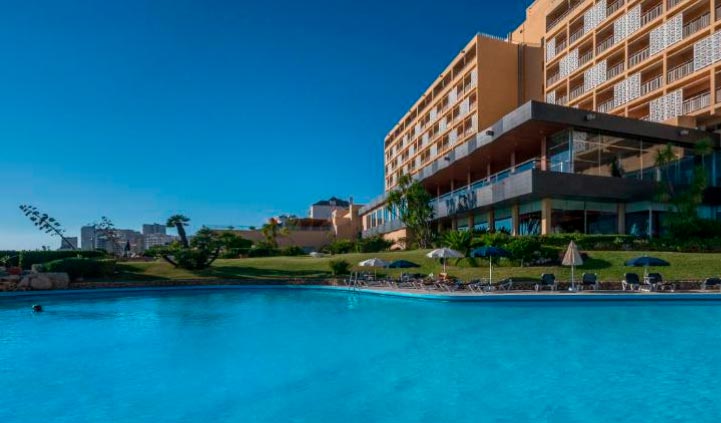 It is a 1-minute walk from Praia da Rocha. This 5-star hotel is in Portimao and offers spectacular views of the Atlantic Ocean and the golden sands of Da Rocha Beach. It is a 5-minute walk from Portimao Marina.
Many of the rooms at the Algarve Casino Hotel have a furnished balcony and a spacious living room.
It offers luxury facilities and services such as 2 outdoor pools set in lush gardens, a hot tub and massage services. The Algarve Casino Hotel also has a children's playground and a games room.
There is a gym, sauna and Turkish bath. The elegant rRestaurant Amendoeiras serves regional and international dishes made with fresh, local produce. The Zodiac Bar-Café offers snacks and light meals by the pool.
Facilities and services
89
#2 | Hotel da Rocha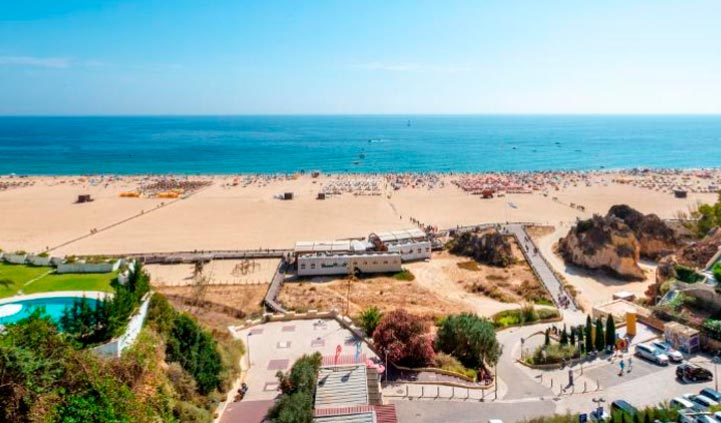 The Hotel da Rocha offers direct access to Praia da Rocha. It has modern suites with views of the beach.
The suites at the Rocha Hotel are spacious and bright and include air conditioning, king-size beds, a sofa bed, a seating area with a flat-screen cable TV, a private bathroom with a bathtub and a hairdryer, air conditioning and a balcony.
The hotel has an outdoor swimming pool, a bar serving drinks and tapas, a gym with cardiovascular exercise equipment, a massage room and an underground car park. Upon request and at an additional cost, the property serves a buffet-style dinner.
The Hotel da Rocha is within walking distance of the Portimão Marina and the bars and restaurants of the lively Rocha Beach.
Facilities and services
89
#3 | AP Oriental Beach Adults Friendly
recommended by tualgarve.com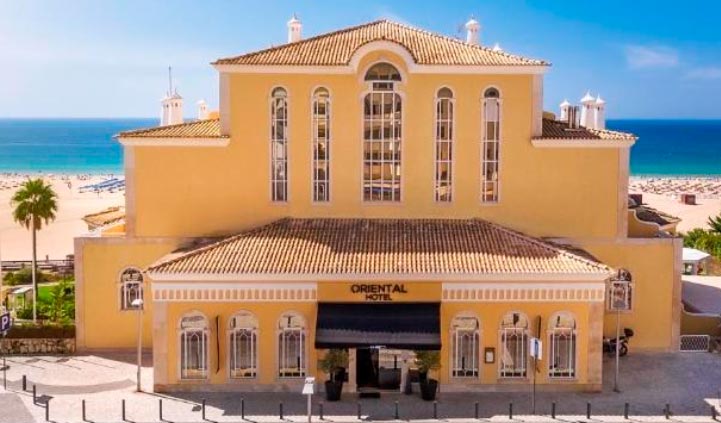 It is 1 minute walk from the beach. This 4-star hotel offers magnificent views of Praia da Rocha, an outdoor swimming pool, and a restaurant with a bar. The rooms have a spacious balcony.
Some rooms at the Hotel Oriental have panoramic views of the sea. They all have a seating area, toiletries and air conditioning.
The Oriental restaurant offers an a la carte menu for lunch and a buffet for dinner.
The panoramic pool terrace overlooks the beach and is ideal for sunbathing. The hotel also has a garden area.
The Portimão marina is just a few steps away, Recommended.
Facilities and services
90
#4 | Villa Mariazinha Charming Hotel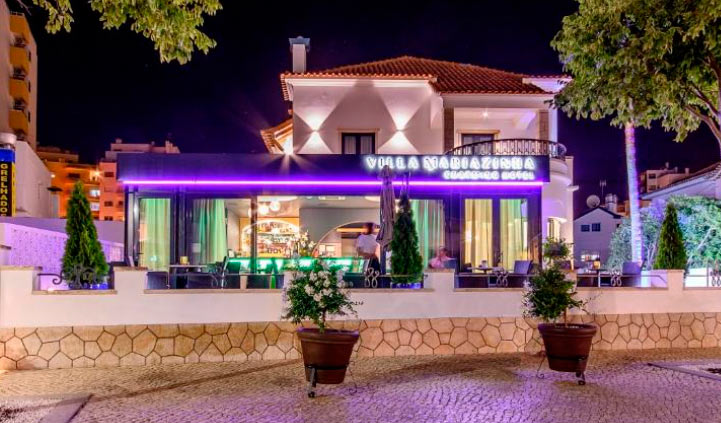 This is one of our favorite sites. The Villa Mariazinha is 100m from the most famous beach in Portimao, 300m from the Portimao casino and right in the heart of the party, restaurant and entertainment area. If you go to Portimao to enjoy the city and leisure in general, this is your hotel.
Correct prices, top cleanliness, careful details and location, as we have mentioned, unbeatable. People or couples who enjoy the hotel give it a score of 9.7 out of 10. Nothing more to add!
Facilities and services
92
#5 | Jupiter Marina Hotel Couples & Spa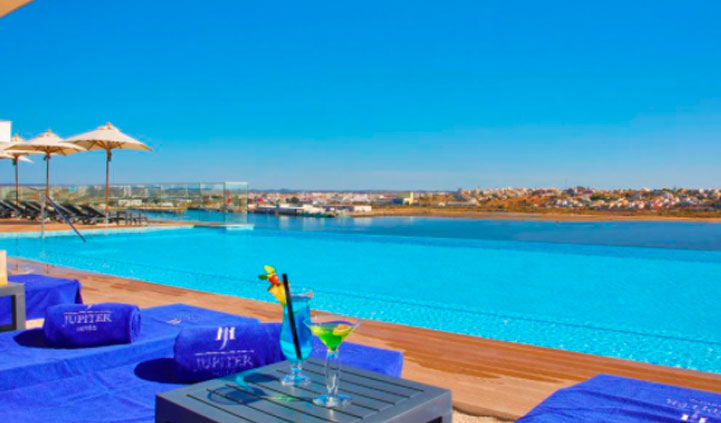 The Jupiter Marina Spa is a four-star hotel. It is just 100 meters from the Portimao river and next to the famous Rocha beach.
It has a Spa, swimming pool, Turkish bath, sauna, relaxation rooms, etc.
Some friends stayed at this hotel to celebrate their anniversary and they got a surprise because the hotel staff decorated everything with hearts. Nice detail that speaks highly of the staff that works there.
It has on its upper floor a swimming pool with a spectacular infinity view where the pool merges with the river. Sunsets are on another level.
Facilities and services
92
↓ See more Algarve hotels on the map ↓

---
See more hotel comparisons
algarve hotel with water slides algarve portugal adults only hotels family friendly hotels algarve spa hotel algarve luxury beach hotels algarve portugal adult only hotels for nudists in portugal dog friendly hotels portugal 5 star hotels in algarve portugal all inclusive algarve hotels hotel praia verde algarve