Reading time: [rt_reading_time] minutes.
In this post we are going to objectively review which are the best hotels to stay in Albufeira. But before starting with the comparison, we are going to give a brief review about Albufeira.
Albufeira is one of the main tourist cities of the Portuguese Algarvian coast, in it, in summer, a large part of the beach and sun tourism of the Algarve is concentrated. It has good tourist infrastructures, magnificent beaches, good internal and external connections, good weather, good food… that is why tourists of many nationalities (many of them British, Spanish, Italian…) gather in this city giving a special color to its streets in summer.
If you are interested in learning more about Albufeira, the editorial staff of Tualgarve.com has created a guide to learn more about this city, you can read it from here.
A large part of the success of Albufeira has a lot to do with the investment in the hotel infrastructure that it did make in the early 1990s and which has continued to grow to this day to provide tourists with good hotel facilities at very good prices.
Comparison of the best hotels in the Portuguese city of Albuferera

To see the full comparison table, hold your smartphone horizontally.
[table "56" not found /]
Cheap hotels in Albufeira
As in all cities, the hotel offer has a fairly wide range in terms of price offer, which obviously has a lot to do with the category of the hotel, the location, amenities, etc. But it is true that in Albufeira you can find cheap hotels in high season.
You have to know how to look for those bargains and the constant that is repeated to find them is time, that is, make the reservation a few months before the stay.
Average prices of hotels in Albufeira in high season
We have done a price study, where we have chosen the first week of June (high season) and a double room for two adults who want to stay in a hotel in Albufeira.
The result of the study tells us that the average price per night is approximately €270. (€135 x person and night).
Let's go there, let's go to what we came to tell in this post, the best hotels in Albuferera:
#1 | Sao Rafael Atlantico Albufeira 5*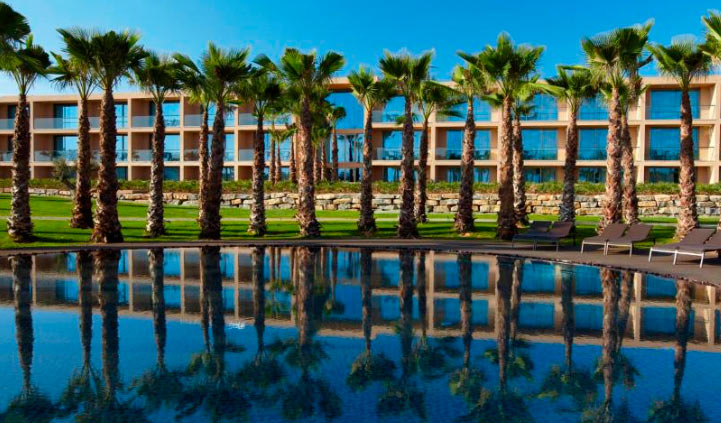 The Hotel Sao Rafael Atlántico is an ultra-modern 5-star complex with sea views and direct private access to São Rafael beach, which is only a 7-minute walk away.
It has 2 indoor heated pools, 3 outdoor pools, gym, spa and terraces for sunbathing.
The rooms are modern, spacious, with new and designer furniture. The Sao Rafael Atlántico has a buffet dining room and an à la carte restaurant that serves Mediterranean specialties in an unbeatable atmosphere.
It is located only 10 minutes by car from Albufeira.
#2 | Vila Recife Hotel Albufeira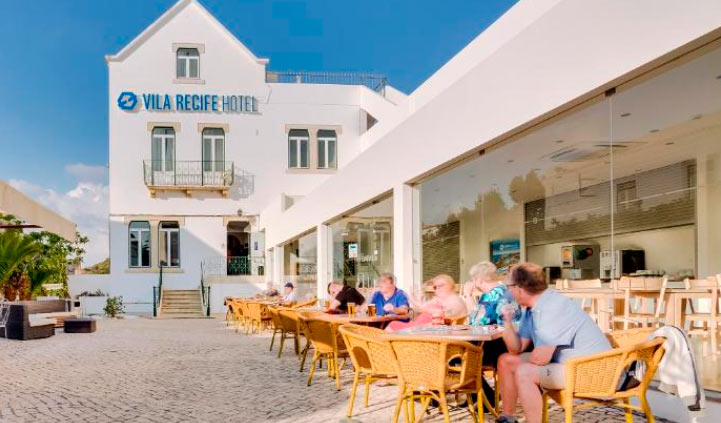 If what you are looking for is an affordable stay right in the urban heart of Albufeira, Recife Hotel Albufeira is your place. It is a small urban hotel (but close to the beach, in fact you can see the Atlantic from its rooms). It has a swimming pool and all the amenities.
Spacious and cozy rooms. It is only 3 minutes from the beach and in the town center, very good location and price. Highly recommended!
#3 | Orada Apartamentos turísticos en marina de Albufeira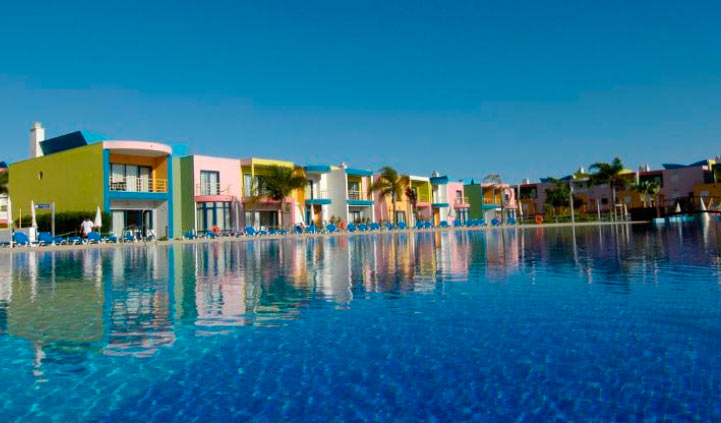 This was going to be a list of hotels, but we couldn't resist including this complex in the ranking of the best hotels in Albufeira. We were last year and the quality/price ratio is very good.
They are tourist duplex apartments in a closed area with large swimming pools and well-kept gardens. It is located in the Albufeira marina, just 1.3km from the city center. If you are going on a vacation with your family or a group of friends, this is your place, highly recommended.
I leave you a video we made of our stay, touring one of the apartments.
#4 | Auramar Beach Resort
We have also tried this Auramar complex and it is one of the best hotels in Albuferia in relation to quality, price, location. Comfortable hotel, with swimming pools, good rooms, 1 minute walk from the beach and also 600 meters from the Albufeira brand area and above all, cheap.
Highly recommended, click to see offers and prices.
#5 | The Patio Suite Hotel
We close our ranking of the best hotels in Albuferia with The patio Hotel Suites. Located on the outskirts of Albufeira, in the middle of a pine forest and just a 12-minute walk from the beach.
The rooms are nice and cozy. It has several swimming pools and restaurants. It is 8 km from the city center.
Recommended option to disconnect and enjoy the tranquility.
↓ See more Albufeira hotels on the map ↓
See more hotels in other cities of the algarve
[wp_show_posts id="1953″]
hotel monte gordo algarve
hotel lagos algarve
hotel vilamoura portugal
hotel alvor baia
hotels near benagil cave
hotels in carvoeiro portugal
sagres portugal hotels
hotel em vila real santo antonio
hotel real olhao portugal
ayamonte spain hotels
hotels near faro portugal
agua hotels riverside – portimao
hotels in quarteira
hotel tavira