The best hotels in Lagos, Portugal. Since writing this blog we have made a ranking with the best hotels in Lagos to help you make your choice easier. But first of all we are going to see something about this magnificent city of Lagos, which is located in the final stretch of the Algarve, between Portimao and Sagres.
Lagos has a population of approximately 33,000 inhabitants and this figure usually doubles or even triples in summer. Lagos offers visitors an important quality hotel offer, magnificent cliff beaches, entertainment venues, water parks.
Everything you need to enjoy a good vacation. We share the link to the Lagos tourist guide that we have written for all our readers.
Comparison of the best hotels in Lagos

Deslizar para ver la tabla completa.
Cheap hotels in Lagos
Although the best hotels in Lagos are usually included in hotel comparisons, this will not be an exception, but we always like to include some hotel cheap in Lagos so that all pockets can access our recommendations.
In Lagos there are cheap hotels where you can enjoy the same or more than in a 5-star resort.
Average prices of hotels in Lagos in high season
Now we reach where others do not arrive, we always like to do a little price study so that our readers can make calculations for the budget of their hotel in Lagos.
The result of the study of the writing of tualgarve.com gives us the following result: Price per night is approximately €235. (€117 x person and night).
Now yes, let's go with the best hotels in Lagos, Portugal, according to tualgarve.com:
#1 | Boavista Golf & Spa Bela Colina Village Lagos
recommended by tualgarve.com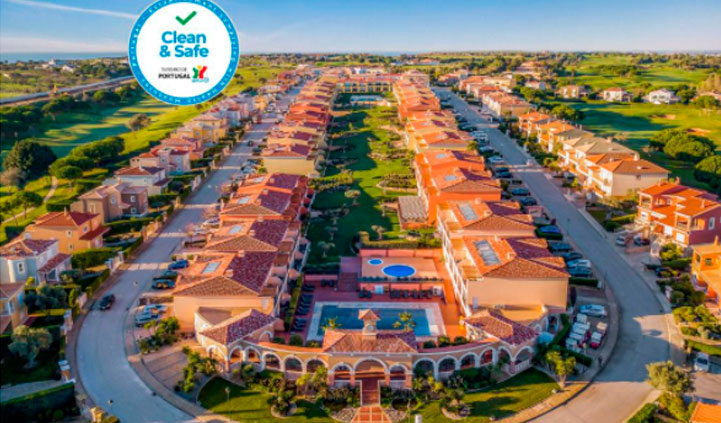 The Boavista Golf and Spa hotel is located in Lagos, in the middle of nature within a spectacular 18-hole golf course. They are luxurious modern villas and apartments with elegant furnishings and fully equipped kitchens.
The complex has gardens and a magnificent SPA where you can escape from the daily hustle and bustle and relax.
It is 10 minutes from the center of Lagos by car. In Booking this complex has a score of 9.1.
Facilities and services
95
#2 | Belmar Spa & Beach Resort Lagos
recommended by tualgarve.com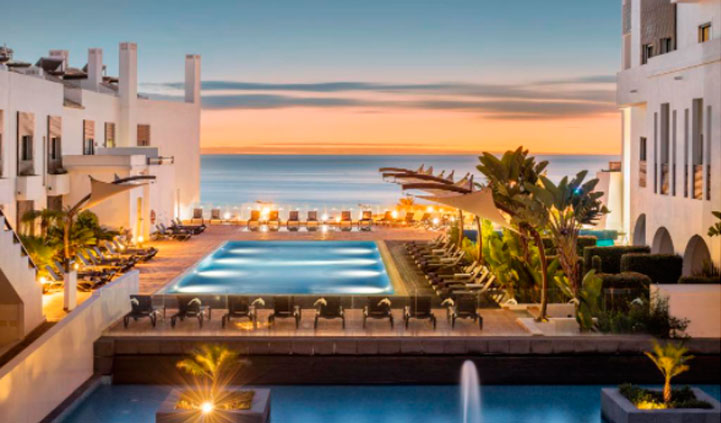 The hotel Belmar Spa beach resort, is located in the city of Lagos and just 5 minutes by car from the center.
It has an indoor pool, sauna, Turkish bath, fitness center, massages, etc.
Booking users give this resort a rating of 9.1 out of 10.
Facilities and services
91
#3 | Dom Manuel Charming Residence Lagos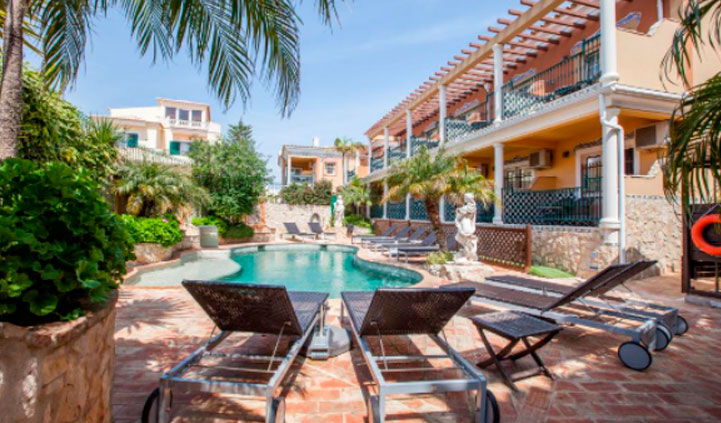 The Hotel Dom Manuel I Charming Adults Only, is located only 500m from Doña Ana beach in the city of Lagos.
Cozy and picturesque rooms, as they are decorated with Portuguese tiles and paintings.
It has a swimming pool, sauna, steam bath, good food, terraces, solarium area. It also gives the option to carry out activities in your environment, such as horseback riding or water activities such as windsurfing.
The Boa Vista golf course is only 3 km away approx.
The note in Booking that couples give is 9 points. Hotel recommended for couples!
Facilities and services
91
#4 | Hotel Tivoli Lagos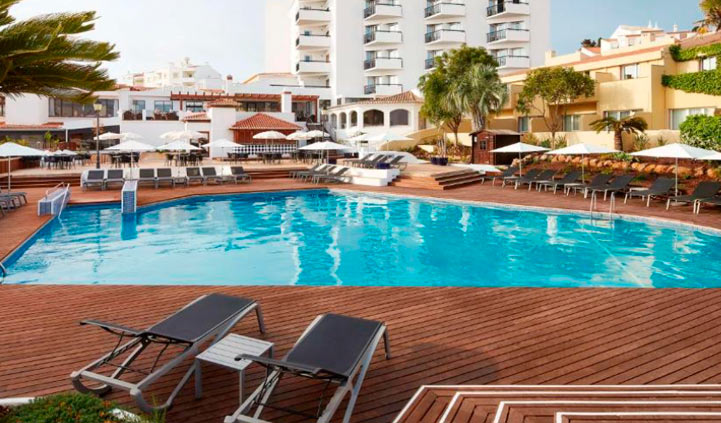 Tivoli Lagos is a 4-star hotel, a classic in Lagos that never fails.
In terms of facilities, nothing to object to, everything aligned to a 4-star hotel, like, clean, nice and that extra that gives you the stars.
The location is also great, in a walk of only 9 minutes you are on the beach.
And in terms of price you will be surprised, we have seen many 3-star hotels more expensive than the Tivoli Lagos. For these reasons we include it in the list and recommend it.
Facilities and services
89
#5 | Carvi Beach Hotel Lagos
recomendado por tualgarve.com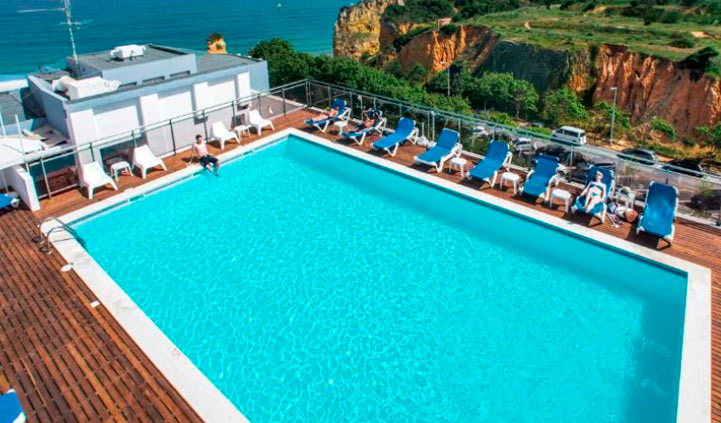 The location of the Carvi Beach Hotel, as you can see in the photo, is spectacular. It is next to Doña Ana beach. As you can see in the photo, on the top floor is the pool with views of said beach.
It has contemporary decor and most rooms enjoy fabulous views of the ocean.
The property has a rooftop terrace with a bar and several restaurants serving a variety of meals and refreshing drinks. Lagos Old Town is 1.7 km away.
The Carvi Beach also has a swimming pool, 24-hour reception and bicycle rental service. It is 10 minutes' drive from Lagos Train Station and Boavista Golf Course. Albufeira is 40 minutes away by car.
Recommended hotel in Lagos! Click to see prices and room options.
Facilities and services
89
#6 | Hotel Vila Gale Lagos
recomendado por tualgarve.com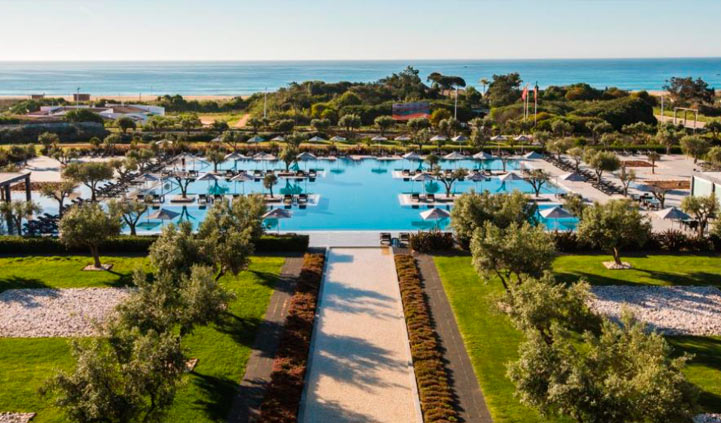 If you are looking for a modern and quiet complex with spectacular views and facilities to enjoy your vacation, this is a great option, large swimming pools and well-kept gardens, next to the sea , roomscomfortable with air conditioning. All the comforts you can imagine in a spectacular enclave.
Enter and look at the prices, but we have already warned you so that the quality of the complex, room design, staff attention, location, activities and a long etcetera, the price is one of the best we have seen in terms of its qualities .
Facilities and services
91
↓ See more Lagos hotels on the map ↓
---
See more hotel comparisons
hotels in monte gordo portugal marina hotel olhao hotels in vilamoura alvor portugal hotels benagil beach hotels hotel tivoli carvoeiro hotel martinhal sagres hotels in vila real de santo antonio portugal hotels in albufeira ayamonte hotels faro hotels portugal hotels in portimao hotels in quarteira portugal hotel vila gale tavira