Reading time: [rt_reading_time] minutes.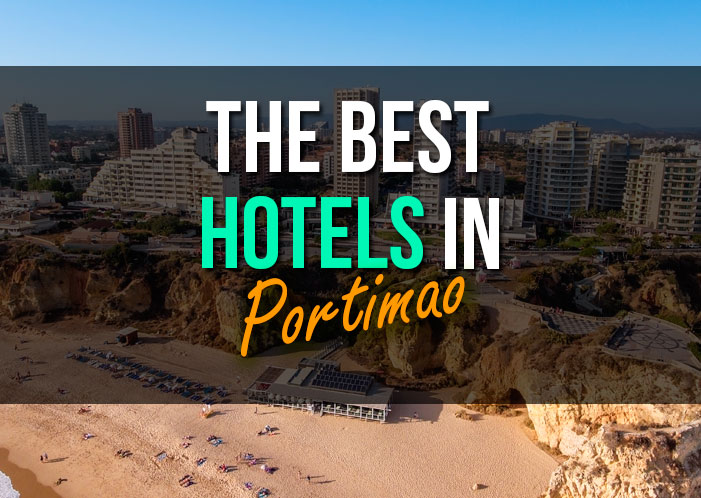 If you are thinking of spending your holidays in the city of Portimao and you want to knowwhich are the best hotels in Portimao</ strong>, you are in the right place. We have prepared a ranking and comparison of the best hotels in Portimao so that the choice is easier for you.
We start from the basis that Portimao is one of the main tourist cities in the Algarve, in terms of population, extension and hotel infrastructure. That is why, given the number of hotels, it becomes a bit complicated when deciding.
Comparison of the best hotels in Portimao

To see the full comparison table, hold your smartphone horizontally.
[table "53" not found /]
Cheap hotels in Portimao
Whether in luxury hotels, average hotels or small cheap hotels or hostels, we guarantee that you will like your stay in Portimao, its beaches, its little streets, bars, restaurants, leisure, and all the possibilities to visit neighboring cities.
In our ranking we always like to include affordable cheap hotels for all budgets, in Portimao it will not be an exception.
Average prices of hotels in Portimao in high season
As always, from the writing of tualgarve.com, in addition to comparisons and rankings, we like to do price studies, where we have chosen the first week of June (high season) and a double room for two adults who want to stay in a hotel in Portimao.
The result of the study in Portimao tells us that the average price per night is approximately €200. (€100 x person and night). This is a figure that can vary but it comes in handy to have a figure in mind and be able to make adjusted budgets at real prices in high season.
#1 | Interpass Vau Hotel
Well, this time we have opted first for a normal hotel, but one that fulfills everything a hotel has to have to enjoy a summer vacation. The first thing is that it is the best we have found in terms of quality / price ratio. In fact, you will be surprised by the price per night and per person in high season!
Correct rooms, friendly treatment of employees, booking score close to 9 points, swimming pools, 500m from the beach…
The only bad thing to say is that it is evident that if you do not book in advance, everything will be booked.
#2 | Morgado Golf & Country Club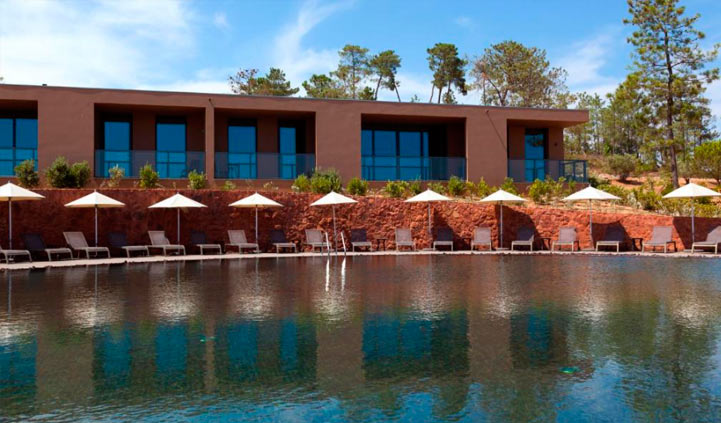 Now in this hotel we go to the outskirts of Portimao looking for peace and tranquility at the golf course of the same name, El Morgado Golf and country club. If you want to relax in a natural setting and, when you open the windows of your room, see the lawns of the two 18-hole golf courses that surround the 4-star hotel, this is the one for you.
It has 4 outdoor pools, as well as indoor pools, a buffet restaurant, a solarium, as well as views of the Monchique mountain range.
Portimao city center is 20 minutes away by car. Faro airport at 50kms.
#3 | Villa Mariazinha Charming Hotel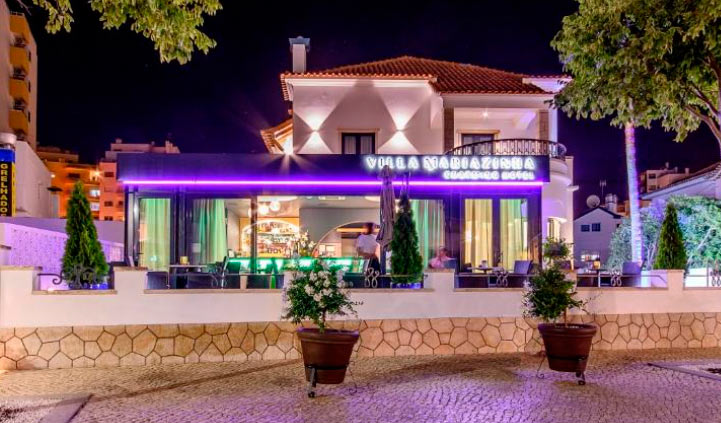 This is one of our favorite sites. The Villa Mariazinha is 100m from the most famous beach in Portimao, 300m from the Portimao casino and right in the heart of the party, restaurant and entertainment area. If you go to Portimao to enjoy the city and leisure in general, this is your hotel.
Correct prices, top cleanliness, careful details and location, as we have mentioned, unbeatable. People or couples who enjoy the hotel give it a score of 9.7 out of 10. Nothing more to add!
#4 | Jupiter Marina Hotel Couples & Spa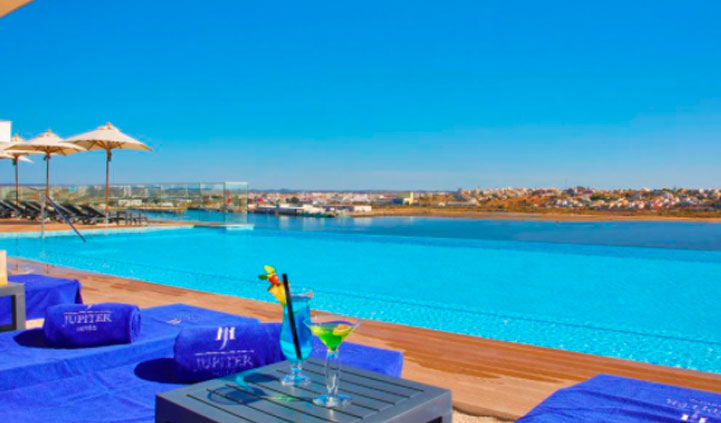 The Jupiter Marina Spa is a four-star hotel. It is just 100 meters from the Portimao river and next to the famous Rocha beach.
It has a Spa, swimming pool, Turkish bath, sauna, relaxation rooms, etc.
Some friends stayed at this hotel to celebrate their anniversary and they got a surprise because the hotel staff decorated everything with hearts. Nice detail that speaks highly of the staff that works there.
It has on its upper floor a swimming pool with a spectacular infinity view where the pool merges with the river. Sunsets are on another level.
#5 | Clube Vilarosa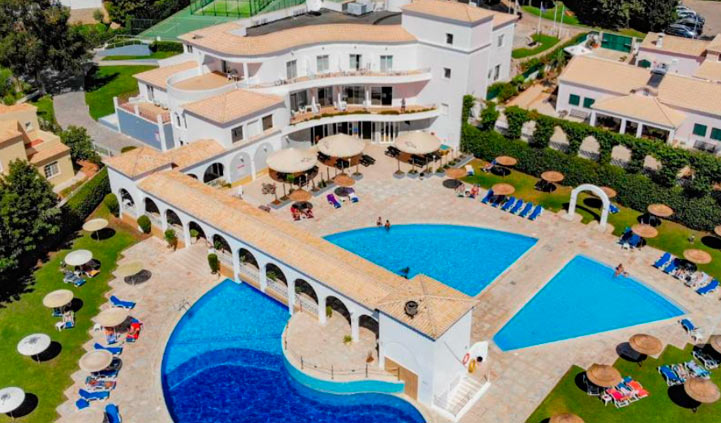 Finally, we close this ranking of the best hotels in Portimao with the Hotel Clube Vilarosa. Another normal Hotel but very affordable economically (You will be surprised by the prices for good) and that does not lack anything to comfortably enjoy a good holiday in Portimao.
the location is also ideal, it is only 500m from da rocha beach, correct rooms to disconnect, swimming pools, tennis courts. Good choice if you are looking for something cheap and of good quality.
↓ See more Portimao hotels on the map ↓
See more hotels in other cities of the algarve
[wp_show_posts id="1953″]
hotels in monte gordo
hotel in vilamoura
alvor baia resort hotel
alvor baia resort hotel
hotels benagil portugal
carvoeiro all inclusive hotels
best hotels in sagres
hotels in vila real de santo antonio portugal
albufeira sol hotel spa
ayamonte spain hotels
faro portugal hotels all inclusive
hotels in olhao
quarteira beach hotels
hotels in tavira algarve portugal